Dave MacLeod in first free climb of Longhope Direct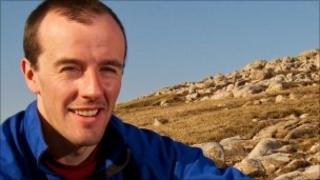 A climbing route on the UK's largest sea cliff, previously deemed too difficult to free climb, has been completed by a Scottish climber.
Lochaber-based Dave MacLeod ascended Longhope Direct on St John's Head, on Orkney. The cliff rises to more than 343m (1,128ft).
In free climbing, ropes and equipment are only there as protection against a fall and cannot be used as an aid.
The route has only been tackled twice before in 40 years.
It is one of three climbing routes on the cliff.
Ed Drummond and Oliver Hill first climbed Longhope Direct in 1970 over seven days using ropes and gear.
They slept in hammocks tied to the cliff face and in large cracks in the sandstone.
Later John Arran and Dave Turnbull free climbed the route over a number of days.
However, the pair considered a crack up the centre of overhanging rock too hard for free climbing and took an alternative route to the left of it.
Mr MacLeod completed his free climb - which included the crack - in 10 hours last Wednesday.
The climber paid tribute to the four who had ascended the route before him.
He said: "It was the hardest route in Britain when they did it. It was a very audacious cliff to take on.
"The last 150ft were by far the hardest on the route for me. It came down to gritting my teeth and going for it."
Mr Arran has congratulated Mr MacLeod on the UK Climbing website and said he and Mr Hill had viewed the route's most difficult section as "ridiculous" to free climbing.
Longhope Direct has been a long-term project of Mr MacLeod's after Mr Hill e-mailed him in 2006 to point out that the most difficult section had still to be free climbed.
Mr MacLeod was joined on the climb by Andy Turner.
Originally from Stockport, Mr Turner is one of the UK's leading winter climbers.
With fellow climber Tim Emmett, Mr MacLeod completed one of the hardest rock climbs in the UK in August 2010.
The pair struck a new route up the Sron Ulladale cliff face on Harris live on television.