Highlanders' sex slave past unearthed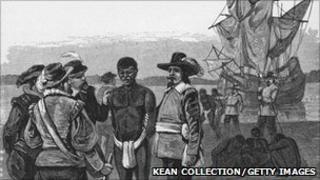 The practice of keeping sex slaves by 18th Century plantation owners from the Highlands has been unearthed.
Dr Karley Kehoe, of the Centre for History in Dornoch, has told how she was disturbed by the contents of letters written by slave owners from the Highlands in the 18th Century.
She said one letter recounted owners sexually abusing female slaves on plantations in the West Indies.
She will help stage an exhibition on the correspondence later this year.
The letters were sent by Highland owners to relatives in Inverness.
Dr Kehoe said researchers at the centre, which is part of the University of the Highlands and Islands, found the evidence of women being used as sex slaves.
She said: "That is particularly disturbing. It is difficult to read things like that.
"One particular letter that was from the 18th Century talks about this relatively graphically.
"It is unusual for the 18th Century to find somebody writing so clearly about what was going on, basically saying that every plantation owner, married or not, had slaves for sexual gratification."
'Forgotten past'
The exhibition, which also involves the Edinburgh Beltane organisation, will be held at Highland Council's archive centre in Inverness.
The Highlands connection with slavery has previously been described by one historian as the region's "forgotten past".
Dr David Alston, a Highland councillor, researched the region's links with slavery for a series of lectures in Inverness in 2007.
He found Inverness's old infirmary and academy, along with Fortrose Academy, received money from the trade.
Dr Alston said, during the 1700s and 1800s, Highlanders sought their fortunes in the colonies.
His investigations grew from researching the historic village of Cromarty on the Black Isle.
Dr Alston was intrigued when he read how Hugh Miller, a geologist and fossil collector who was born and brought up in Cromarty in the 1800s, had sat next to a black pupil in school.
It led him to find there were three black pupils at Inverness Royal Academy around the same time.
They were the children of men who had married slaves, or women known at the time as free coloured, while working on or running sugar plantations in the West and East Indies.
War of Independence
A Scottish soldier's request to take his daughter's black slave called Doll with him to war in 1782 was also highlighted by a Highland Council-run Am Baile history website in 2009.
Lt Soirle MacDonald, from Skye, was a loyalist fighting for the British Army in the American War of Independence.
A letter granting him permission regarding the slave is among a collection of papers in Am Baile's database.
The collection of correspondence sent to MacDonald forms part of the JLM Mitchell Archive of the Gaelic Society of Inverness.