New family plan to live in renovated cottage on Canna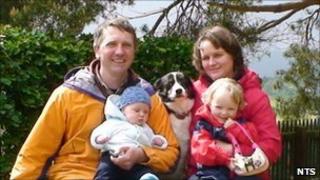 The National Trust for Scotland (NTS) has confirmed that a family of four is planning to move to Canna.
The island, which is owned by the trust, has suffered a recent loss of population, with three households leaving, or saying they intended to go.
The new residents are Alison and Duncan Spence, from Laggan, Inverness-shire, and their two children.
In early 2011, the island's population was 22 but its school may have no pupils next year.
At least one of the residents leaving Canna criticised the lack of control exercised by local people.
Mr Spence will take on the role of pier assistant and carry out woodland management work.
'Something new'
Both he and his wife, whose children are under the age of three, also intend to work remotely using the internet.
According to NTS, the couple have had previous experience of island life, living off the coast of Papua New Guinea.
Mrs Spence said: "We were looking for a change and felt that, after being in Laggan for 10 years, it was time for something new."
The family will move into the newly-renovated MacIssacs cottage, after signing a five-year lease.
Stewart Connor, NTS property manager on Canna, said: "We are really excited that the Spences are joining us on Canna.
"The trust and the community have lots of plans to work together to build a strong and sustainable community on Canna."