Army base closure speculation 'upsetting families'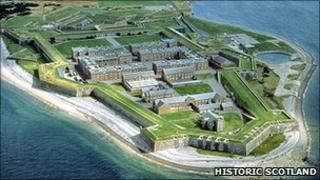 The Ministry of Defence has said speculation that the Fort George army base near Inverness could close was upsetting troops and their families.
The latest speculation surrounds the future of Fort George near Inverness.
The MoD is in the midst of deciding which Scottish military bases should close as part of the UK government's defence review.
The SNP's Angus Robertson warned if Fort George closed it would be devastating for the area.
The MoD said there were a number of troops deployed in operations in Afghanistan and the "drip drip" of "inaccurate and unfounded speculation" about army base closures in Scotland was causing "great upset for families, during a very difficult time".
Scotland on Sunday reported that Black Watch soldiers stationed at Fort George would move to Arbroath's RM Condor.
Mr Robertson said: "We know they will be looking closely at moving the Royal Regiment of Scotland battalion, the Black Watch, out of Fort George, ending as a full-time army base.
"A decision has already been taken to close Kinloss as an operating RAF base and we are fighting hard to retain RAF Lossiemouth.
"What this points to is that the MoD and the UK government do not have the north of Scotland as a priority."
The MoD said a decision on the future of military bases in Scotland would be made before the summer recess.
A statement added: "No decision has been made to close RAF Leuchars, RAF Lossiemouth or remove troops from Fort George."
Assurances given
And in a direct appeal to the media, the statement went on: "Whilst the future military footprint in Scotland is of great importance and concern to communities in Scotland and the Scottish media, I ask you to reflect on the distress and risk you are inflicting on the people who serve their country in harsh and dangerous conditions, and defend the UK at home.
"Nothing is more important than their safety at this time.
Defence analyst, Christopher Lee told BBC Scotland that having heard the Defence Secretary Liam Fox last week he thinks Fort George is more likely to go than the base in Arbroath, East Angus.
However, Highlands and Islands Tory MSP, Mary Scanlon, said she was assured by Armed Forces minister Nick Harvie six months ago that the base was safe.
The fort serves as a base for members of the the Black Watch and the 3rd Battalion The Royal Regiment of Scotland (3 Scots).