Builders' help sought in fight to halt fall in swifts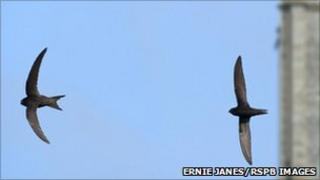 Builders and planners have been asked by the RSPB to help halt a decline in swifts.
The visitor from Africa is on the charity's amber list, meaning they are of a serious conservation concern.
Falling numbers have been linked to the loss of older buildings and the lack of nest sites on new properties.
The RSPB has appealed to builders to protect nests sites on buildings undergoing renovation and to add nest boxes to modern homes.
Richard Thaxton, of RSPB Scotland's Loch Garten reserve, near Aviemore, said swifts had adapted to nesting on man-made structures.
He said: "We are encouraging planners and building companies to make provision for nesting swifts in building design."
Aged and rotted trees along with old woodpecker holes in Loch Garten's Abernethy Forest provide some of the last traditional nest sites for swifts in the UK.
The RSPB said almost all sightings of the birds in 2010 were swifts nesting on buildings, with 77% of them nesting in houses.
Over half of the properties were more than 90 years old.