Extra carriages on trains during Kessock Bridge repairs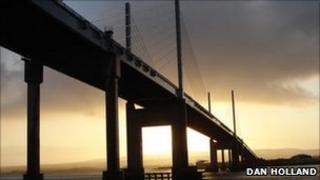 Two extra carriages are to be made available on train services in the Highlands during an eight-day repair project on the Kessock Bridge.
Highland Council said the works planned from 19-26 June on the crossing at Inverness were urgent and essential.
To help ease congestion, ScotRail will provide an extra 121 seats on both the 0634 Lairg to Inverness and 1715 Inverness to Ardgay services.
Employers have also been asked to be flexible about workers' commutes.
Cathel Macaskill, of contractor Scotland Transerv, said: "We are delighted to see this additional capacity from ScotRail to enable more commuters to make the switch to rail during these emergency works.
"We are encouraging people to think about their travel during these works and use public transport or car pool if they can.
"Another option is to work flexible hours outwith peak travel times, or to work from home."
Both lanes of the northbound carriageway will be closed for the first three days of the project to allow that section of the expansion joint to be dismantled and reassembled.
From 23 June, both lanes of the southbound carriageway will be closed until the evening of 26 June for work on the southbound joint.