'Gripping' tales could help rescue funds, says climber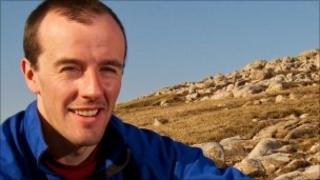 One of Scotland's leading climbers has suggested mountain rescue teams could attract funding by recounting the details behind dramatic call-outs.
Lochaber-based Dave MacLeod said Scottish teams have "some of the most gripping" stories to tell.
He said blogs written by rescuers could capture the attention of potential donors.
MacLeod also believed Twitter feeds on hill conditions written by rescue teams would be heavily subscribed to.
With fellow climber Tim Emmett, MacLeod completed one of the hardest rock climbs in the UK in August 2010.
The pair struck a new route up the Sron Ulladale cliff face on Harris live on television.
A keen blogger, MacLeod's latest entry gives his thoughts on mountain rescue teams' challenge to raise funds for equipment and cover running costs.
Part of his inspiration for the piece was an event he attended for the Linda Norgrove Foundation, a group launched in memory of a Scottish aid worker killed in Afghanistan.
MacLeod said mountain teams could write and publish books about their work and rescues, seek sponsorship from big business and also publicise their stories in blogs.
The climber said rescue team stories have been published in the Scottish Mountaineering Club's journal for decades, and were also outlined in police press releases.
He said they made for "very interesting and depressing reading" and as a blog the stories would highlight how often people requested help after dark and this might, in turn, reduce the number of call-outs.
On his blog, he said: "As any new marketer will tell you, marketing revolves around stories, and rescue teams have them in bulk.
"Whereas many corporate stories are fake and boring, mountain rescue stories are some of the most gripping ever."
MacLeod said there would need to be discussion on the ethics and how the information was presented.
He said the suggestions set out in the blog were not new, but added that as an "outsider looking in" it seemed to him that teams should consider the different approaches to bringing in money.
MacLeod's blog entry was written just days after a survivor of a rockfall in Skye's Cuillin hills that killed another climber spoke about the incident from his hospital bed.
Mike Stansfield, of Leeds, was injured but managed to raise the alarm.
A mountain rescuer called to the scene on Tuesday last week dubbed Mr Stansfield "iron man" for his effort to get help.
Tessa Cousins, 56, from Cape Town, in South Africa, died in the rockfall.
The grandmother of seven was described by her family as a "fearless explorer" who was passionate about the outdoors.