Goat herd monitored by Dounreay nuclear site 'retired'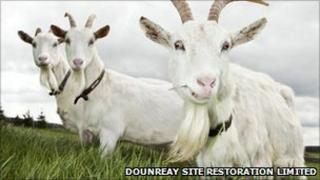 Goats whose milk is tested for potential radioactive contamination from a nuclear site have been "retired" because they are getting too old.
Owner Celia McDougall was worried her herd was no longer able to produce the five litres required by the Dounreay site in Caithness.
Dounreay Site Restoration Limited (DSRL) tests milk as part of wider monitoring for potential pollution.
The company will now use milk from a nearby herd of cows.
Mrs McDougall's goats at Shebster, near Dounreay, have been monitored since the late 1990s.
Dounreay Site Restoration Limited is required to test milk and analyse other animals under Scottish Environment Protection Agency rules.
Angela Lockhart, senior compliance officer at the nuclear plant, has told the site's magazine Dounreay News: "We carry out monitoring to ensure that the local environment and the food chain are not being harmed by the discharges from Dounreay.
"We take samples from land and sea that have been agreed with Sepa."
The officer added: "We will be sad to say goodbye to Mrs McDougall and her goats after so many years."