Glenelg and Kintail minister to quit over gay issue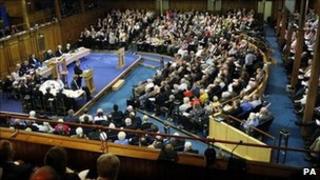 A Church of Scotland minister in the Highlands is leave the Kirk over its vote on gay and lesbian clergy.
The Reverend Roddy MacRae said he would stand down as minister of Glenelg and Kintail in the next few months to allow time for new appointment to be made.
The controversial issue has been debated at the Kirk's General Assembly.
On Monday, it voted to allow the possible selection of gay and lesbian ministers in future, although a further report on the issue is two years away.
A theological commission will now be set up and will report in 2013, before a final decision on the issue of gay ordination is taken.
Earlier the Assembly had voted to accept gay and lesbian clergy provided they had declared their sexuality and were ordained before 2009.
This was when a temporary ban was imposed following the appointment of the Church of Scotland's first openly gay minister, the Reverend Scott Rennie.
The Reverend Thomas Mackinnon resigned in protest at that decision.
The Reverend Rennie was inducted as minister of Queen's Cross Church in Aberdeen in July 2009.