Inverness teacher's 205-year-old journal published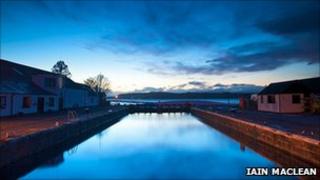 A journal written by a teacher more than 200 years ago as he surveyed the boundaries of Highland counties has been published for the first time.
Fife-born Alexander Nimmo was rector of Inverness Academy when the Commission for Highland Roads and Bridges asked him to carry out the work.
The survey was made in 1806 during the Highland Clearances.
Nimmo, who later gave up teaching to become an engineer, also carried out experiments on Loch Ness.
He was a member of the Royal Irish Academy and a fellow of the Royal Society of Edinburgh.
Both organisations have been involved in publishing the 205-year-old journal.
The book, edited by Prof Noel Wilkins, will be launched at an event in Inverness on 8 June hosted by the new University of the Highlands and Islands.
Homes burned
Nimmo kept the journal as he travelled around Inverness-shire and other parts of the Highlands while the region was undergoing huge change.
Starting in the late 18th Century and running into the 19th Century, the Highland Clearances saw townships occupied by generations of families cleared to make way for large-scale sheep farming and the rearing of deer.
Landowners were seeking to "improve" their estates in line with the industrial revolution. Their hope was to make more capital from the land by running shooting estates, or starting industrial-scale livestock farming.
In some cases people who had lived on the land for generations left voluntarily, while others were forcibly evicted and their homes burned and demolished.
Loch Ness
Educated at the universities of St Andrews and Edinburgh, Nimmo taught at Fortrose Academy, near Inverness, before becoming rector at Inverness Academy.
In 1804, he was involved in carrying out experiments to try and record temperatures deep below the surface of Loch Ness.
Nimmo gave up teaching in 1811 to become an engineer.
Thomas Telford, the famous Scots engineer and architect of the Caledonian Canal, asked him to carry out survey work for the Commission for the Bogs of Ireland.
Nimmo died in Dublin in 1832.