'Climate threat' to public paths says SNH report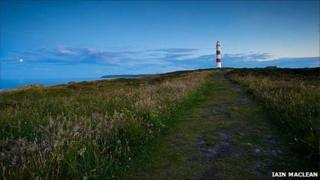 Climate change threatens to put "chronic pressure" on the state of public paths in upland and lowland Scotland, according to a new report.
The study investigated the potential effects of warmer, wetter conditions on the design and management of tracks.
Researchers looked at paths in Aberdeenshire, Dumfries and Galloway, Loch Lomond, Lothian and Wester Ross.
Erosion and extra spending on drainage have been highlighted in the Scottish Natural Heritage-commissioned report.
The report said temperatures were expected to rise, which would affected the process of ground freezing and thawing, and there would be more "frequent and intense" extreme rainfall events.
The report said action could be taken to prepare for the effects of climate change.
These included agencies sharing knowledge on how to best drain and repair paths and, also, constructing routes "more resilient" to extreme weather.
The report's authors looked at paths around Kinlochewe, in Wester Ross, Loch Lomond, Glentrool, in Dumfries and Galloway, Aboyne, in Aberdeenshire, and Dunbar, in East Lothian.