Not all plain sailing for gaelic channel BBC Alba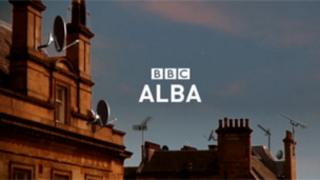 The fact BBC Alba will be available on Freeview offers a tremendous opportunity for the Gaelic channel to reach a far bigger audience, but it is not without risks.
The channel's remit has always been to try to appeal to as many people as possible - not just Gaelic speakers and learners.
About 50% of Scots have satellite or cable on their main television set so going on Freeview offers BBC Alba the potential to increase its audience substantially.
Market research suggests it is watched by 220,000 people at some point every week but until now conventional viewing figures for specific programmes have not been compiled.
The launch on Freeview is set to be accompanied by increased promotion for the channel itself and individual programmes.
While the channel enjoys broad political goodwill, the practicality of putting it on Freeview proved controversial.
Some people are disappointed some of the BBC's radio stations won't be broadcast on Freeview whenever BBC Alba is on the air - generally from 5pm until midnight on weekdays with longer hours at the weekend - because of restricted bandwidth.
However, evidence to the BBC Trust revealed that most people who listened to the radio stations on Freeview, were listening to stations that they could also hear on FM or medium wave.
Meanwhile new digital radio transmitters are continuing to be built so that eventually coverage will match that of FM. Last weekend it emerged 5 Live, 6 Music and 1 Extra would remain on Freeview as 24 hour services in a move which may allay some worries.
Major channels
BBC Alba is a joint-venture between the BBC and the publicly-funded Gaelic media service MG Alba - this is a unique arrangement for any domestic service which carries the BBC name.
But one potential area of concern is what could happen if the universal availability of BBC Alba leads to a fall in the number of Gaelic programmes on the major channels - or even their end.
Since 1982, Welsh language programmes have been broadcast on the dedicated service S4C.
On analogue television, it replaced Channel 4 and showed a mix of English language and Welsh programmes.
The station was watched by most people in Wales and Welsh language programmes were often watched by people with no understanding of the language but who were happy to read subtitles.
But with digital switchover, S4C evolved into a dedicated Welsh language station and overall ratings for the channel fell badly. From 2014, the TV Licence will fund S4C - not the UK government - in a move which aroused controversy.
While there are no questions over the funding of Gaelic broadcasting, there are certain to be questions over the continuing role of Gaelic programmes on major networks.
'Gaelic ghetto'
BBC2 Scotland shows about two hours a week of Gaelic programmes in the evening along with Gaelic programmes for pre-school children.
But there are debates within the BBC about whether BBC2 should become a single UK-wide service.
Even if these moves come to nothing, there could be discussions about whether it is still necessary to show quite so many Gaelic programmes on a major channel.
A similar discussion is already underway about the role of children's programmes on BBC1 and 2.
STV currently shows some Gaelic programmes late in the evening. The company expects to be able to drop them shortly.
One worry could be that BBC Alba simply becomes a "Gaelic ghetto" as the language disappears from major channels.
The challenge for BBC Alba is to try to reach out to as many viewers as possible so that, even if there was a reduction in the amount of Gaelic on big channels, Gaelic broadcasting would still have a high profile and reach out beyond its core audience.