Actress Penelope Keith launches Cromarty to Nigg ferry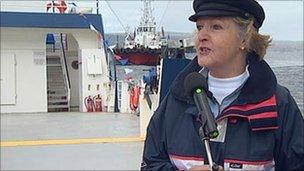 A ferry service on the Cromarty Firth in the Scottish Highlands has been resumed using a new boat.
The new, larger vessel, which can carry four cars rather than just two, was specially built for the short crossing from Cromarty to Nigg.
The previous ferry last sailed during the summer months in 2009.
TV actress Penelope Keith, who has a home in the area and plans to open a tea room in the village of Avoch, launched the new Cromarty Queen.
The vessel is still one of the smallest of its kind in the country and retains the traditional style of a landing craft with a vehicle turntable.
Operator Tom Henderson said he hoped to build on the 13,000 passengers carried in 2009.
In 2008 the Cromarty car ferry was the venue for what organisers claimed was the world's smallest drive-in cinema.
The 1950s film, The Maggie, was shown on the ferry and tickets were offered to just four passengers.
Good Life actress Keith was given permission to open a tea room in February this year following a six-year planning battle.
Ms Keith, 70, and her husband Rodney Timson, have been planning to open the shop in Avoch, in the Black Isle, since 2005.
However, Highland Council refused her permission, saying her plans were out of character with the local area.
After submitting a revised design, the plan has now been approved.
The original plan by Ms Keith, who also appeared in To The Manor Born, had prompted opposition from some residents.
Related Internet Links
The BBC is not responsible for the content of external sites.