Aquamarine project sparks new Western Isles link call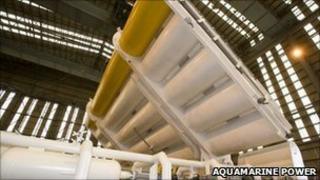 A proposed wave power project off the Western Isles would generate electricity for almost three times the number of properties on the islands.
Edinburgh-based Aquamarine Power has secured permission to explore the potential of two sites off Lewis where it could install devices by 2018.
However, the islands have no means to export electricity to the mainland surplus to its 13,195 properties.
Council leader Angus Campbell said action was needed now on a link.
A device, called Oyster, is being tested in the sea off Orkney and commercial-scale versions could be installed off Lewis.
Aquamarine Power has secured seabed leases from the Crown Estate allowing it to explore the potential of the sites.
Planning permission would have to be sought from the local council, Comhairle nan Eilean Siar, and regulator Marine Scotland before any development could go ahead.
Aquamarine Power has estimated that, if approved, up to 40 devices should be able to generate 40 megawatts (MW) of electricity - enough for 38,000 homes.
There are 13,195 properties on the Western Isles, according to the 2001 Census.
Meanwhile, wave power joint venture Aegir also secured seabed leases from the Crown Estate to continue work to explore the potential of a wave farm.
The project off the coast of Shetland, involves Edinburgh-based Pelamis Wave Power Ltd and Swedish utility Vattenfall AB, and aims to start with a 10 megawatts (MW) project using Pelamis wave energy converters.
The decision on whether to develop the wave farm is expected to be taken in 2015.
Like the Western Isles, Shetland is not yet connected to the National Grid on the mainland.
However, it is anticipated that a large onshore wind farm being developed by Viking Energy will lead to an interconnector being installed, allowing electricity generated on the islands to be exported and sold on the UK market.
Aegir chairman Veijo Huusko said: "With a rich natural resource, the Shetland Islands have a great opportunity to harness a substantial new marine industry, when the grid connection is available.
"So we are very glad to be cleared to do investigation works."
'Cannot sit back'
Last year, plans for a Western Isles interconnector linking renewable projects on the Hebrides to the National Grid on the mainland were put on hold.
A subsidiary of Scottish and Southern Energy deferred the start of work on the cable saying its cost must be underwritten by developers.
Welcoming Aquamarine Power's project Mr Campbell said it reinforced the need for the interconnector.
He said: "2018 is being talked about for the instalment of devices, that is just seven years away.
"Seven years ago we thought we would have an interconnector within two years.
"We cannot sit back and say that time scale will allow for a connection to be put in place. Action needs to be taken now."
Mr Campbell added that community benefits to islanders from the project would have to be clearly set out before planning permission was considered.
The two sites lie between Siadar and Fivepenny and also Bagh Dhail Beag and Traigh Shanndaigh.
'Economic growth'
Chief Executive Martin McAdam said interconnectors linking the islands with the mainland would need to be in place in the next three to four years.
He said: "If Scotland is to capitalise on it's global lead in marine energy there is an urgent need to address the lack of interconnectors not just to the Western Isles but to Orkney and Shetland also.
"The high transmission charges levied by Ofgem on remote projects are a fundamental barrier which make it uneconomic for renewable energy projects to underwrite the high capital costs of transmission upgrades."
Mr McAdam added: "We are working closely with the Western Isles Council and Scottish Renewables to press Ofgem for a fundamental reform of transmission charging."
Aquamarine Power is working with University of the Highlands and Islands-affiliated Lews College on harnessing wave energy off the islands.
Dr Neil Finlayson, senior researcher at Lews Castle College, added: "The opening up of the coastlines of the Outer Hebrides to wave energy developments gives the opportunity to create economic growth on a considerable scale in the area."
A spokesman for the Crown Estate said the Aquamarine Power and Aegir projects increased the number of wave and tidal projects under active development in UK waters to more than 20 - more than any other country in the world.