War brides author tackles grandfather's Highland story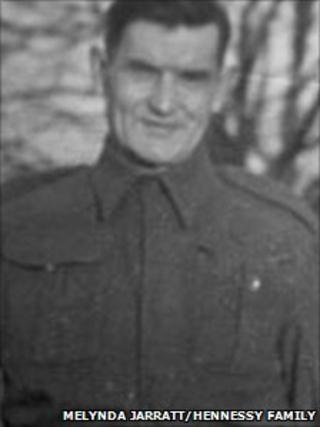 A Canadian author is coming to Scotland to uncover more details about her grandfather's five years in the Highlands during World War II.
Melynda Jarratt will also draw on almost 300 letters Patrick Hennessy exchanged with his family back home.
Mr Hennessy joined the army in 1940 when he was 56 and served as a cook with the Canadian Forestry Corps.
Ms Jarratt has previously written about war brides, many of them Scots who married Canadian servicemen.
Father-of-six Mr Hennessy was among hundreds of experienced woods men from New Brunswick, Canada, who logged Highland forests for the war effort.
His family said his time in Scotland were among the happiest years of his life.
Skilled in the kitchen, Mr Hennessy served as camp cook with the corps' 15 Company at Beauly, near Inverness.
Ms Jarratt hopes to meet people who knew her grandfather.
He befriended families with the surnames Fraser, Munro and Mackay and was invited by the late Lady Lovat to attend the church at her Beaufort Castle home.
The aristrocrat's husband, Lord Lovat, saw action during D-Day and became famous for ordering a piper to play the bagpipes to rally landing troops on the operation' s Sword Beach.
'Rare, diary-like'
Ms Jarratt said letters written by her grandfather and also sent to him from his family provided a wealth of detail to a previously untold story of the forestry corps.
She said: "Patrick wrote to his family in New Brunswick and they wrote back to him, providing a rare, diary-like glimpse into life overseas and on the home front.
"Numbering more than 300 letters and hundreds of archival documents, this unique collection tells a compelling story that has never been told before in Canada or Britain.
"I plan to tell the story of the Canadian Forestry Corps in Scotland through the Hennessy letters and to elicit additional research material through the media and my website.
"I will also travel to Beauly to meet the descendents of the Scottish people my grandfather befriended and find out what happened when the Canadians descended upon their Highland village so many years ago."
George Cross
The University of New Brunswick's Gregg Centre for the Study of War and Society has offered to publish the book as part of its New Brunswick Military Heritage Series co-published by Goose Lane with the support of the Canadian War Museum.
Ms Jarratt's previous works include Voices of the Left Behind: Project Roots and the Canadian War Children of World War Two and Captured Hearts: New Brunswick's War Brides.
On her Scottish visit she will also give a free talk organised by the University of the Highlands and Islands.
There have been other efforts to record and recognise Canada's war-time links with the Highlands.
Ryduack Canadian Camp in Badenoch and Strathspey is listed in the Highland Historic Environment Record database.
In 2008, a memorial cairn was unveiled in honour of a serviceman with the Royal Canadian Engineers who died while saving colleagues from a fire at a construction site.
Cpl James Hendry was awarded the George Cross posthumously for his actions at a tunnel being built for an aluminium smelter at Fort William in 1941.
The soldier and a colleague died after fire broke out in an explosives store.
Laggan Heritage led the effort involving local trades workers to erect a memorial at Loch Laggan to the men.
Falkirk-born Cpl Hendry, 29, was serving with the Royal Canadian Engineers and working on a tunnel to divert water from the River Spey to the British Aluminium Company smelter.
When fire broke out, he ordered his colleagues to run to safety before attempting to extinguish the fire.
Cpl Hendry and Sapper John Stewart died in the explosion.