Highlands wild fires could cost landowners £26m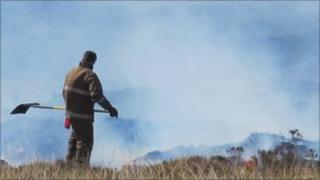 Wild fires that burned thousands of acres of moor and forestry could cost landowners up to £26m to reinstate, according to a fire service.
Highlands and Islands Fire and Rescue Service (HIFRS) tackled 70 significant blazes between 29 April and 5 May.
It said 22,486 acres (9,100 hectares) of vegetation and 7,907 acres (3,200 hectares) of forestry were destroyed.
HIFRS calculated the cost of the damage based on research of wild fires that affected Yorkshire in 2003.
The service has also looked at the cost to it of fighting fires in difficult terrain over the six days.
It said the cost of deploying vehicles and crews ran to more than £125,000.
Chief Fire Officer Trevor Johnson said the firefighting operations involved almost 1,800 personnel.
He said: "The fires we have experienced presented a significant threat to firefighters who often had to work in very difficult terrain.
"During the fires, people's homes and a campsite had to be evacuated and as a precaution, on one occasion a helicopter had to evacuate people from a Munro due to the volume and density of smoke.
"The dedication of all personnel involved in these operations must be recognised.
Mr Johnson added: "The effects of these wildfire is undoubtedly devastating to the rural environment and whilst I am aware that throughout the UK during this period, other fires raged out of control, I would doubt if any area was as severely affected as the Highlands."