Ospreys nest on special platform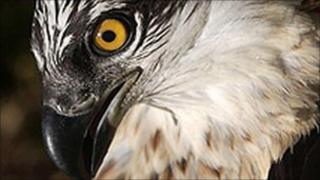 A pair of ospreys have taken up residence on a special platform built to stop them nesting too close to tourists.
Scottish Natural Heritage (SNH) said the birds migrated to Loch Fleet National Nature Reserve last year, but failed to produce offspring because they picked a nest close to a path.
Staff built a new nesting platform and the pair are being closely monitored.
The reserve is important for its wildlife including seals and roe deer.
SNH's North Highland and Northern Isles area manager, Lesley Cranna, said: "Ospreys have a long migratory route to and from their breeding grounds in Scotland and we are delighted that this pair has decided to try to rear a family on Loch Fleet National Nature Reserve.
"It's great to have ospreys where people can enjoy them, but we felt that they needed a bit more privacy at the nest site itself so that they are not disturbed.
"So, we have built a new nest for them in a quieter area of the reserve.
"We are glad to say that this strategy appears to have worked and the birds have settled in quite nicely.
"It remains to be seen whether they will successfully fledge young or not, but we are hopeful that with the right conditions and availability of prey locally, they will breed successfully at this site."