Canoeists rescued from Loch Ness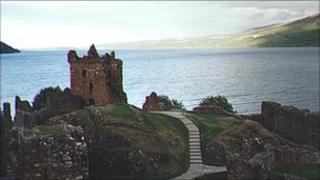 Two canoeists have been taken to hospital after capsizing on Loch Ness.
The kayakers got into difficulty at about 1600 GMT, not far from Urquhart Castle, after the weather took a turn for the worse.
Rescuers from the Loch Ness RNLI said they picked up one of the men from the water while another had managed to reach the shoreline.
Both were suffering varying degrees of hypothermia and have been taken to Raigmore Hospital in Inverness.
Martin Douglas from Loch Ness RNLI team said it was a difficult rescue in challenging conditions.
'Quite unpleasant'
He said: "One person had been recoverd from the water by two of his colleagues so he needed treatment.
"We got him transferred into the RNLI lifeboats. Just at that point, we were told there was another person on the shoreline but just out of view.
"He'd attempted to get up to the A82 by scrabbling up a very very difficult extremely steep scree hill, near the lochside, where he'd managed to swim ashore."
Mr Douglas added: "Our options were very limited. We had one person to treat, one person to recover from the shoreline and the weather was really turning quite unpleasant. It was about a metre and a half swell."
Mr Douglas said the men were rescued after a skipper from a private boat made his way to the scene, allowing the lifeboat crew to transfer their casualty into his vessel while they recovered the second person from the shoreline.