Wave power buoy tested off Scottish coast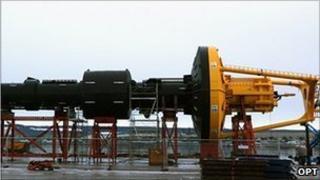 Sea trials of a new type of wave power device have got under way in the Moray Firth, almost 38 miles off the Easter Ross coast.
Warwick-based Ocean Power Technologies (OPT) is testing the first of a new generation device which can produce enough electricity for about 150 homes.
It is the largest and most powerful wave power device designed by OPT to-date.
The company said the trials were expected to last up to three months.
They have the consent of the Scottish government.