Weather cost Scottish Natural Heritage over £450,000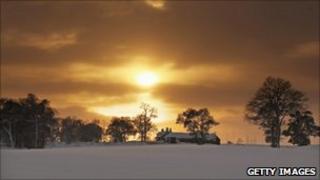 Severe weather between 2005 and 2010 cost Scottish Natural Heritage (SNH) £450,630, according to a new report.
Heavy snow, freezing temperatures and flooding led to IT outages, lost work hours, damage to offices, higher heating costs and frozen vehicle fuel.
The problems affected operations across Scotland, including in the Highlands, Aberdeenshire, Galloway and Perthshire.
The review on the impact of severe weather on SNH work and sites said staff coped well.
Damage caused to nature reserves included ice floes knocking down bird hides.
The single largest cost incurred was an IT outage in February 2010 affecting offices across the Highlands, leaving them as "islands" with no e-mail or internal mail.
SNH estimated that lost work time and delayed repairs helped to push the cost of the outage to £300,000.
Flood damage to the agency's office in Battleby, Perth, in July 2009 ran to about £70,000, according to the review.
Positives drawn from the disruption included deer counts being easier in snow and greater use of video conferencing that reduced the need for staff to travel.
The review's authors said steps had been taken to learn from the experiences.
They said: "From the evidence of interviews and other sources, SNH has been significantly affected by severe weather events in the period since 2005.
"These have had consequences for the organisation with considerable costs in terms of finance, workload and service delivery.
"Greater attention could be paid to monitoring severe weather events and consequent impacts using established SNH management systems - for example risk register, budgeting and time recording."
A spokesman for SNH said the report quantified the extent to which severe weather could affect the agency's operations.
He said: "It highlights what we do well in terms of managing the risks associated with severe weather.
"And it makes recommendations as to where we could improve. We are already acting on those recommendations and are sharing the findings with other organisations."
He added: "We are also holding a 'Sharing Good Practice' workshop in September looking specifically at impacts of severe weather on the management of nature sites.
"This will be about identifying ways in which organisations can plan and manage better for the future in preparing for climate change."