Wildfires 'a threat' to ecology and soil quality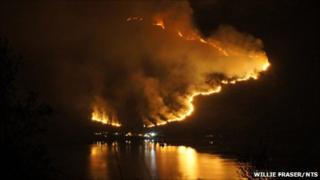 Wildfires which have been burning across parts of Scotland will have an impact on ecology and soil quality, according to scientists.
Ecologist Angus Jackson said food chains and the chemistry of soils, such as peat, have been threatened.
Dr Richard Dixon, of WWF Scotland, said mammals could escape the flames, but bird nest sites were at risk.
He added that the fires would contribute "in a small way" to the release of carbon into the atmosphere.
Fire crews have been tackling blazes across the Highlands, in Aberdeenshire and on Lewis in the Western Isles.
Mr Jackson, of the Environmental Research Institute at Thurso's North Highland College UHI, said the fires had come at a time wildlife was "waking up" following winter.
He said the wild fires were different from muir burnings, which are the controlled burning of moor and heath by landowners.
By law, muir burning is carried out between October and April.
Mr Jackson said: "Muir burning is done on a smaller scale and in a controlled way in cooler weather, though the fires can sometimes burn out of control.
"The wildfires have spread to larger areas and, because the ground is dry, are burning at a greater temperature.
"They come at a time migratory birds are arriving in the Highlands to feed up for the breeding season, or are finding mates and nesting.
"Insects, such as dragonfly, are starting to hatch and emerge and these provide food for birds, amphibians and also fish in nearby small lochans and ponds."
'A bad time'
But Mr Jackson said what was not so widely recognised was fire's effect on soils.
He said: "We have a PhD student here who has been studying the effects of fire on soil and the microbial life in the layers beneath the surface.
"The full results are not available yet, but it looks like fire can be a threat to the pH (acidity) of soils and change its chemistry.
"This in turn influences the types of plants that grow and this has effects higher up and lower down in the food chain."
Dr Dixon said the fires could have a positive as well as negative effects on the environment.
He said: "There are two sides to the fires.
"One side is that it can be positive in that it clears vegetation and that can be good for wildlife in that it allows new growth.
"Some seeds are sensitive to fire and are activated by it.
"The other side is that at this time of year birds are nesting, or raising young, so the fires are coming at a bad time for them.
"Mammals such as deer and pine martens will be able to move on, but nesting birds can't just up sticks and move their young to another location."
Dr Dixon added: "Climate scientists have been looking at the amount of carbon, and soot, in the atmosphere and these wild fire will make a small contribution towards that."
The National Trust for Scotland said efforts to regenerate ancient Caledonian pine forests in Kintail have been damaged by fire.
Pete Selman, the trust's director of property and visitor services, said: "Despite the best efforts of the crews on the ground, once the fires reached the trees, the flames leapt as high as 40ft.
"The loss of the mature trees is heartbreaking to all those involved in forest regeneration in the area over many years.
"However, the main thing is that no-one was hurt.
"We will look at our options once the immediate priorities are dealt with and our aim will be to begin re-establishment of the affected area of forest once again."