New women's unit at Inverness Prison 'a success'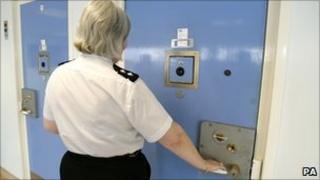 A new women's unit at Inverness Prison has been delivering the desired results in its first year, according to the Scottish Prison Service (SPS).
Most women convicted in the Highlands serve the majority of their jail terms in Cornton Vale in Stirling.
The new unit aims to rehabilitate inmates closer to home ahead of release and can take six women at a time.
Deputy governor Gordon Maurice said those who had been through the unit had not returned to prison so far.
He told BBC Scotland: "It is going very well as far as we are concerned.
"None of the girls who have been through the unit in the last year have returned to prison so far and at least two of them I know are in employment now.
"They seem to be doing really well and I would say that is success however you want to measure it."
One prisoner in the unit, who did not wish to be named, said serving her sentence closer to home was beneficial.
She said: "My family were travelling up to 14 hours a day just to see me for an hour.
"Here it gives you peace of mind to know that you are 10-15 minutes away from your family."