WWII crash sites in Scotland to be surveyed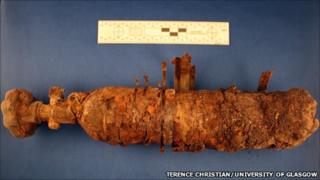 Archaeologists are to carry out surveys of nine World War II aircraft crash sites across Scotland.
They include a crashed US B-17 Flying Fortress on Skye and locations on Shetland and in Dumfries and Galloway.
Terence Christian, of the University of Glasgow, and volunteers excavated the wreck of a Mosquito MM244 near Inverness last year.
Items recovered included an oxygen bottle and parts of the aircraft's wooden frame showing an RAF roundel.
The artefacts will eventually be handed over to the care of a museum.
Permission to survey the nine new sites has been sought from the Ministry of Defence, which allowed the examination of the crashed Mosquito remains.
Mr Christian said the B17 bomber work was also being done in consultation with the crew's families in the US.
He told the BBC News Scotland website: "We plan to do the survey work in early May.
"The B17 was flying from Iceland to London on its way to Italy when it crashed on Skye."
'Unmodified time capsules'
Mr Christian's research aims to develop new aircraft archaeology-specific methodology as a means to record and manage World War II crash sites.
He said: "With a production total of nearly one million units, aircraft represent the largest composite artefact classification of the Second World War.
"Even with such vast production numbers, less than 5% of operational aircraft remain.
"Indeed, the majority of the extant 5% only exists in a wrecked state amongst the forests and fields of towns worldwide."
But the archaeologist said rather than being buried "unmodified time capsules" many crash sites have seen "large-scale human alteration" over the past 70 years through people handling, or removing, artefacts.
The Mosquito wreck crash site dig was carried out last July.
The aircraft of No 544 Squadron crashed on 25 November 1943 after experiencing engine problems during a training mission with six other Mosquito crews.
Pilot Flying Officer Joe Burfield and navigator Sgt Alexander Barron, a Glaswegian, baled out and parachuted down to opposite sides of Loch Ness.
Dubbed the Wooden Wonder because of its wooden frame, the Mosquito was operated on low-level bombing raids.