Inverness campus site's Bronze Age past revealed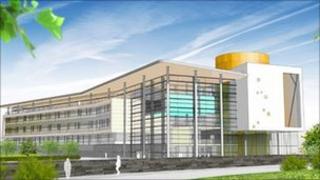 Evidence of Bronze and Iron Age settlements have been found on the site of the proposed new Inverness Campus.
The remains of timber-built roundhouses and crop marks have been recorded at East Beechwood.
Archaeologists have also uncovered a flint flake and fragments of prehistoric pottery, including Neolithic grooved ware.
AOC Archaeology Group surveyed the site for developer Highlands and Islands Enterprise (HIE).
The campus would provide a new base for Inverness College and the University of the Highlands and Islands (UHI).
Researchers and businesses are also expected to set up on the site.
HIE said the completed project could potentially support up to 6,000 jobs over the next 30 years and generate more than £38m a year for the economy.
AOC surveyed the site in October 2010 and a report on finds made has now been uploaded on Highland Council's Historic Environment Record.
In the report, archaeologists said there was "extensive evidence of prehistoric activities" at East Beechwood.
They have recommended a strategy be produced on how to record the evidence and artefacts.