Reservists re-enact Jacobite night march of 1746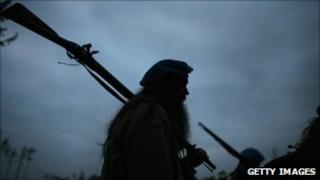 Reservists have completed a re-creation of a Jacobite night march of 265 years ago as part of their training for deployment to Afghanistan.
The original march of 15 April 1746 from Culloden was aborted short of its target on the outskirts of Nairn.
Bonnie Prince Charlie's forces were defeated at Culloden the next day.
Members of a Highlands-based TA infantry company and Royal Marine Reserve took part in the modern day version, Exercise Jacobite Trail.
Some among the 24 soldiers and commandos have been preparing for deployment to Afghanistan.
Ian Deveney, of Inverness-based Battlescar re-enactment group, also completed the trek along with another re-enactor Willie White, from Lothian.
The hike started from Culloden House Hotel at 1930 BST on Friday.
The last marchers arrived at Culloden Battlefield at about 0745 BST on Saturday following a 22-mile overnight hike which featured a series of mental tasks. The majority finished the challenge in under 10 hours.
By the end, the majority had not slept for 24 hours.
C Company 51st Highland, 7th Battalion The Royal Regiment of Scotland (7 Scots) and Royal Marine Reserve Scotland were involved.
Youngsters from Sea Cadets Inverness, 1st Battalion, The Highlanders, Army cadet Force and 161 (First Highland) Sqd Air Training Corps took part until up to midnight when they were pulled out as planned.
'Fresh understanding'
One of the exercise organisers, Capt Alec Rose, took part in a re-enactment of the night march two years ago.
He said he hoped the challenge had brought fresh understanding to the effects of the 1746 night march on the Jacobites.
Capt Rose said it had also allowed those taking part to observe the affects of sleep deprivation on judgement and the importance of food and provisions, or lack of them, for the soldiers.
Mr Deveney, who also took part in the 2009 re-creation, said he was "very pleased" to complete it for a second time.
On Saturday, commemoration events at the battlefield included a service led by the Gaelic Society.