MCT's Skye tidal energy plan sparks direct action row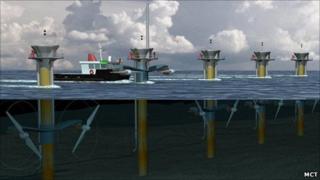 Highland Council's leader has said he would support communities taking direct action against marine renewable schemes which yielded no local benefit.
Liberal Democrat Michael Foxley's comments followed Bristol-based Marine Current Turbines (MCT) securing the lease to part of the seabed off Skye.
He said there was not a "clear message" in the plans on community benefits.
MCT said these details had not been worked out and that it wanted to maximise local job opportunities.
Last week, the company secured an "agreement of lease" from the Crown Estate, which owns the seabed at Kylerhea.
MCT plans to install four SeaGen tidal energy units in the narrows between Skye and the Scottish mainland by 2014.
The £40m project could potentially generate enough electricity for 8,000 homes.
Dr Foxley said Glenelg and Arnisdale Development Trust had it own plans for a tidal energy scheme, but had not received the support it needed to realise its ambitions.
Referring to MCT's project, the councillor told BBC Alba: "This development is not working in any sense with the local community.
"Here we have a lease being granted in private from the Crown Estate commissioners to a company that has carried out little, or no, consultation."
He said there was no clear information available on cash benefits, training or job opportunities to people living close to the proposed tidal scheme.
Dr Foxley added: "I would support any direct action taken by coastal communities against that sort of exploitation."
Development trust chairman Michael Francis told BBC Radio Scotland local people would be prepared to disrupt the building of marine renewables that brought no benefits to the area.
He confirmed the trust had been examining the potential of generating electricity from the narrows' strong tidal currents.
The Crown Estate said the lease was only the first stage in a process of exploring the potential of Kylerhea and planning permission would still have to be sought for the turbines.
In a statement, it added: "As part of its statutory responsibilities and as the relevant elected authority, the Scottish government will undertake consultation prior to reaching a final decision on whether the development should proceed."
Dr Foxley's comments have sparked a mixed reaction from other political parties.
Mary Scanlon, the Scottish Conservatives' candidate for Inverness and Nairn, accused the council leader of acting like a "school bully".
She said: "Given that Marine Current Turbines have confirmed that community benefits for this scheme have not been worked out yet, the comments from Dr Foxley are premature to say the least and very damaging to the positive, constructive relationship and approach to business in the Highlands.
"The threat of 'direct action' is not the mark of a democratically elected politician, let alone the convener of a council."
Ms Scanlon added: "The Highlands is a great place to do business and is very much open for business."
'Massive' potential
Lewis MacDonald, Scottish Labour's energy spokesman, said it was important to work with communities.
He said: "Scotland has massive off-shore wind, wave and tidal energy potential that we should seize.
"But it is vital that in so doing we work with local communities to achieve the best possible outcome for people locally.
"Scottish Labour supports the creation of a Scottish Crown Estate Commissioner as well as wider reform of the Crown Estate Commission to take account of Scotland's particular needs and priorities."
Rob Gibson, SNP candidate for Caithness, Sutherland & Ross, said it was because of situations like Kylerhea that the nationalists wanted the responsibility for the Crown Estate in Scotland devolved. He said other parties had voted against this.
Mr Gibson said: "All the London-led parties offered was a consultation over the appointment of a commissioner for the Crown Estate.
"That is an appalling offer that insults our communities, our industries and our potential.
"Coastal and islands communities, our renewable energy industry, our harbours and our fishing fleet know that we can do better for Scotland."