Whisky buried by Ernest Shackleton expedition recreated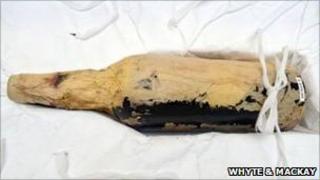 A whisky buried beneath a hut used by explorer Ernest Shackleton during his unsuccessful expedition to reach the South Pole has been recreated.
Distillers Whyte & Mackay, which owns the MacKinlay whisky found in 2007, hopes to sell 50,000 bottles at £100.
A percentage of the price will go to the Antarctic Heritage Trust, which recovered five cases of whisky.
Samples of the Shackleton whisky were analysed at Whyte & Mackay's Invergordon distillery.
The Glasgow-based company's master blender Richard Paterson then spent eight weeks blending a range of malts to get a replica of the 100-year-old Mackinlay's liquid.
Whisky writer Dave Broom has tasted both the original whisky taken on the 1907-09 expedition and Whyte & Mackay's new spirit.
He said: "The Shackleton whisky is not what I expected at all.
"It's so light, so fresh, so delicate and still in one piece - it's a gorgeous whisky.
"It proves that even way back then so much care, attention and thought went into whisky-making."
He added: "Richard has done a great job as it's a very tricky whisky to replicate."
Antarctic Heritage Trust chief executive Nigel Watson said recovering the five crates of MacKinlay whisky had been a long and complex process.
He said: "From start to finish it's taken almost four years to safely extract the whisky crate from site and then Antarctica, thaw it in museum conditions, secure permits and complete scientific analysis in Scotland."