Seabed leased for SeaGen tidal farm off Skye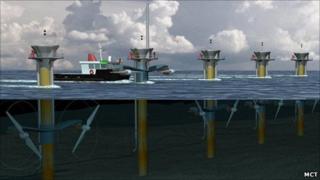 A Bristol-based company has secured the lease of part of the seabed off Skye to deploy four tidal turbines.
Marine Current Turbines said the £40m project would see the devices installed at Kylerhea, narrows between Skye and the Scottish mainland, by 2014.
The company already operates a commercial-scale tidal power device at Strangford Lough in Northern Ireland.
It said the four SeaGen units could potentially generate enough electricity for 8,000 homes.
The company has secured an "agreement of lease" from the Crown Estate, which owns the seabed.