'Wildness' loss worry over Tomatin wind farm plan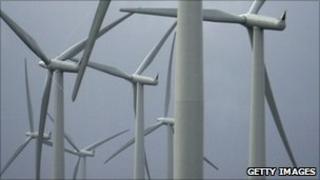 The Cairngorm National Park's "sense of wildness" would be harmed if a new wind farm was given the go-ahead, planning officers have said.
Eurus Energy has proposed 26 turbines at Glenkirk, near Tomatin, in Inverness-shire - which lies just outside the national park's boundaries.
Planning officers for the park authority have recommended the planning committee object to it.
However, they recognised efforts made to lessen the visual impact.
In a report to Friday's Cairngorms National Park Authority planning committee, officers also said part of the site was earmarked in Highland Council's Renewable Energy Strategy for possible wind farm development.
The site lies beyond the park's boundaries but the authority said the turbines would be visible from various locations inside it.
These include Dava Moor, areas around Aviemore and Glenmore and the hill Meall a Bhuachaille.
Park planning officers said: "There are welcome improvements in this application with regard to effects on the landscape character and views within the straths.
"However, the cumulative impacts on popular upland areas within the park are likely to be significant.
"Glenkirk wind farm would if built, contribute to the now marked encircling effect of wind farms around the northern side of the national park, a feature which has an undermining effect on some of the special qualities of the park, and in particular the sense of wildness that one can experience here."
Eurus Energy had originally planned for 34 turbines at Glenkirk.
The planning committee will meet in Boat of Garten.