Scotland soils 'need better protection' says report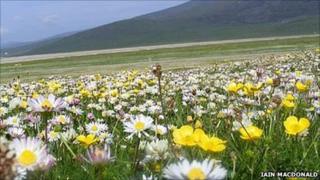 Climate change, housing and heavy farm machinery have been identified as threats to Scotland's soils, contributors to a new report have said.
More than 50% of the UK's natural soil carbon is stored below ground in Scotland, according to The State of Scotland's Soils.
It suggests planning authorities should better understand this role of soils and do more to protect prime farm land.
The report's contributors include public agencies and scientists.
It builds on studies published in 2001 by the Scottish Environment Protection Agency (Sepa), which has made the new report available on its website.
'Carbon stocks'
Key threats to the quality of soils have been identified, with the effects of climate change marked out as one of the major threats.
Rainfall and temperatures influence the richness of organic matters - such as plants - in soils, the report said.
The impact of development and how it was controlled have also been highlighted.
The report said: "There appears to be inadequate weight given by planning authorities to protecting prime agricultural land and protecting the soil resource in general across non-prime agricultural land."
It added: "The planning system needs to include safeguards on land use and maintaining soil quality, in particular carbon stocks, with appropriate guidance in National Planning Policy Guidelines and Planning Advice Notes.
"There is also a need for planning officers to be trained on this issue, as most will not have any previous experience of considering soils in detail."
Soils support agricultural businesses worth £700m to the Scottish economy, according to the report.
However, it said the use of increasingly heavy farm machinery and how they compact soils posed a potential threat that was not fully understood in Scotland.
Some machines used for harvesting crops weigh up to 40 tonnes and those used in forestry up to 20 tonnes, the report said.
Citing research from Germany and Denmark, it said heavy equipment was compacting soils at increasingly deeper levels.
The State of Scotland's Soils has also highlighted that some earths have a "strong regional identity" and were culturally and historically important.
These included the machair of the Western Isles and red soils of the Howe of the Mearns in Aberdeenshire.
Contributors included the British Geological Survey, Centre for Ecology and Hydrology, Macaulay Institute, Scottish Agricultural College and University of Glasgow.