Small earthquake hits the Highlands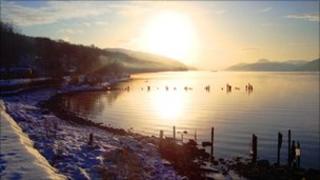 A 2.4-magnitude earthquake has been felt in the Highlands, the British Geological Survey has confirmed.
It happened at about midday and was felt in Abriachan, near the northern end of Loch Ness.
The last earthquake in the area was in January, when a 3.5-magnitude quake shook Glen Uig in Moidart.
Suzanne Sergeant from the BGS said the latest tremor was very minor and she did not expect it to have caused any damage.
"We've received one report from Abriachan, which is approximately 3km south-west of the epicentre," she said.
"Here they felt the tremor and heard a rumble. It would've been very slight in terms of the intensity of the shaking that they experienced.
"We wouldn't expect an earthquake of this size to cause damage.
"If we put it in perspective, this earthquake today released about six billion times less energy than the Japan earthquake."