HMS Sutherland's visit cut for operational reasons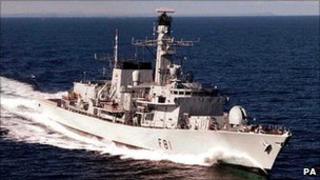 A warship's visit to a Highlands port has been cut short for operational reasons, the Royal Navy has said.
HMS Sutherland has arrived at Invergordon to be given the freedom of the county of Sutherland.
The ship and crew were expected to stay until Monday, but they will leave on Sunday morning.
The Type 23 frigate's commanding officer Roger Readwin would not comment further than saying the early departure was because of operational commitments.
Royal Navy frigates HMS Westminster and Cumberland have been involved in a blockade of ports in Libya.