Dounreay radioactivity animal testing could be reduced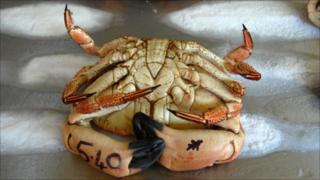 The numbers of fish, crabs, lobsters and periwinkles tested for potential radioactive contamination from Dounreay could be "significantly reduced".
More than 22,000 marine animals a year are caught and killed to check species are not being harmed by discharges from the nuclear site in Caithness.
Dounreay Site Restoration Limited said new techniques and less discharges meant fewer need to be tested.
DSRL is discussing plans with Sepa, the Scottish Environment Protection Agency.
Sepa permits effluent cleaned up to the point of low-level radioactivity to be released into the sea, on condition that DSRL monitors marine life for any impact.
The environment agency also carries out its own studies on any effects from the discharges.
In 2009, 1,254 crabs, 130 lobsters, 190 fish and more than 21,000 periwinkles were caught and tested by DSRL.
Similar numbers continue to be analysed.
In a new report, DSRL said it had made a case to Sepa to "significantly reduce" its environmental monitoring programme in line with "diminishing discharges".
It added: "The thrust of the new proposals has been to reduce the number of animals sampled for the marine environment."
A DSRL spokesman said discussions were being held with Sepa about changes in testing techniques and the lower levels of releases.
As well as marine animal studies, checks are made of seaweed, sheep droppings, goats' milk, grass and soil.
The new Strategic Environmental Assessment - Site Specific Baseline - also details the wealth of wildlife found in and around the Dounreay site.
Surveys have counted about 110,000 individual seabirds - including Atlantic puffin and razorbill.
Birds of prey such as peregrine falcon, hen harrier and merlin have also been recorded.
Other wildlife includes otters, pipistrelle bats, Scottish primrose and rare bumblebees.
DSRL said in the report that it was preparing a biodiversity plan for the site.
Meanwhile, Graham Construction have been awarded the contract to build a low-level waste store at Dounreay.
It had earlier been named preferred bidder from a short list of five companies.