Project to identify wave power sites off Western Isles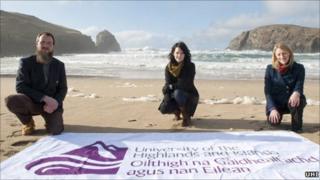 Scotland's newest university is working on a project to identify potential wave power sites in the sea off the Western Isles.
The Hebridean Marine Energy Futures project has been backed with £900,000 from the Scottish Funding Council.
Staff at the University of the Highlands and Islands' (UHI) Lews Castle College on Lewis are leading the research work.
UHI said waves off the isles' west coast had huge potential.
Marine energy developers are working with UHI in the research work.
Project manager Arne Vogler said: "This is one of the most important research projects of its kind, with far-reaching benefits for a burgeoning industry.
"We are proud that we have the resources on our doorstep, plus the skills and experience, to lead on this."
He added: "Marine energy projects in high-resource areas produce more power at a lower cost per unit of energy output.
"This means there is a clear economic imperative for project developers to target these areas."
Formerly a higher education institution, UHI was awarded university status in February.