UK-led Nato exercise Joint Warrior to go ahead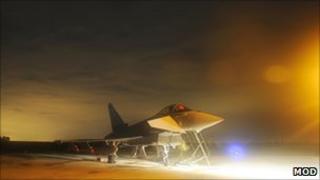 Europe's biggest military exercise is set to go-ahead amid US and Nato air and sea missions against forces loyal to Libyan leader Col Muammar Gaddafi.
Ships and personnel have started to gather in Scotland ahead of the launch of Exercise Joint Warrior next week.
Royal Navy, US, Dutch and Norwegian warships along with Nato air crews and ground troops are due to take part.
RAF Kinloss in Moray and a live firing range at Cape Wrath are also to play roles during the training.
Earlier this month the RAF said US, Canadian and French maritime patrol aircraft would be flying out of Kinloss.
Six US F15 jets from RAF Lakenheath and three Blackhawk helicopters, along with Falcon and Hawk jets were also to operate from the station, according to the RAF.
The Ministry of Defence (MoD) had also advised of warships and submarines in the Clyde, the Sea of Hebrides, the Little Minch, Loch Eribol and around the Western Isles.
Troops from the Household Calvary Regiment and US Marine Corps are also scheduled to take part in Joint Warrior.
RAF Typhoon and Tornado jets have been involved in missions over Libya.
Royal Navy frigates HMS Westminster and Cumberland have been blockading ports.