Tick warning issued by Scotland mountaineering group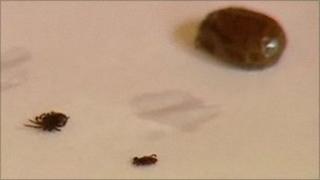 Warm weather appears to have encouraged parasitic ticks to emerge earlier than last year, the Mountaineering Council of Scotland (MCofS) has said.
MCofS membership development officer Mike Dales said he found his first tick of the year on Saturday.
He recorded his first of 2010 on 29 April.
Lyme disease, an infection that can cause arthritis if untreated, can be transmitted to humans through a tick bite.
Mr Dales said the parasite was on his right leg.
He may have picked it up in the garden of his Perthshire home, or during a trip to the Highlands to compete in the Newtonmore 10-mile road race, and also for a walk up Meall na h-Aisre.
In a warning to other walkers, he said: "So much for the theory that says the hard winter will have hit Scotland's tick population.
"Yesterday was mild though.
"Despite the breeze making it feel a bit cooler, our weather station recorded a high of 12.9C yesterday afternoon."
He added: "That warm temperature was no doubt responsible for bringing the tick that attached itself to my leg out of the undergrowth."