Snubbed Dingwall Beatles gig numbers grow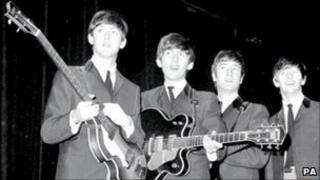 Organisers of an attempt to reunite 19 people who watched The Beatles play in a town hall in 1963 have had claims from 24 people who say they were there.
Billy Shanks is helping to lead the search for the audience members of the 1963 gig in Dingwall, Ross-shire.
He said some who turned up thought the music was rubbish and left to join an audience of 1,200 watching a local band in nearby Strathpeffer.
A reunion event has been planned for 8 April in the town hall.
The 19 originally sought by Mr Shanks, of Dingwall Business Association, were people who paid to watch The Beatles.
Mr Shanks told the BBC News Scotland website that the 24 to come forward so far included people who had served teas, or were working in the cloakroom, on the night.
He said there were also people who paid for a ticket but later walked out and got a refund.
Audience members and people who were working at the gig have got in touch from all over Scotland, but also South Africa and New Zealand.
Mr Shanks said everyone who had been in touch so far would be invited to the reunion.
In the weeks following the Dingwall gig, The Beatles went on to have their first top 10 hit with Please Please Me.
Within a year they were the most popular band in the world.
Mr Shanks earlier told the BBC Good Morning Scotland programme a performance by local band, the Melotones, in nearby Strathpeffer, had been a bigger attraction on the night.
Mr Shanks went to the town hall himself to look in on The Beatles, but had second thoughts after doorman David Murray told him the music was not good.