Funds for ruined North Uist church Teampull na Trionaid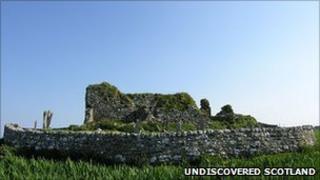 Almost £200,000 has been awarded towards preserving the ruins of an ancient church on the Western Isles.
Teampull na Trionaid on North Uist was founded in the 1200s as a college for priests.
The Scottish government has given Teampull na Trionaid Conservation Association £194,000 to stabilise the remains of the medieval church.
The ruins are close to the site of the Battle of Cairinish, which took place in 1601.
It was believed the battle was sparked by member of the local Clan MacDonald divorcing his wife, a MacLeod from the island of Harris.
A MacLeod raiding party were defeated by the MacDonalds.
Western Isles MP Angus MacNeil has welcomed the funding.
He said: "I know that many people in Uist have worked tirelessly on a voluntary basis, and I am delighted that all their hard work has secured this funding."