Plockton trad music school 'saved' says government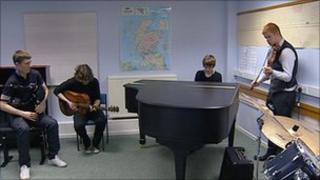 The Scottish government has said the future of a traditional music school has been secured until 2015 through a new funding package.
Plockton's National Centre of Excellence in Traditional Music looks set to work in partnership with West Highland College (WHC) in Fort William.
The school has been fighting for survival after Highland Council said it was withdrawing annual funding.
The government said the council would continue to provide some support.
The new deal has still to be formally signed off by WHC, which is part of the new University of the Highlands and Islands (UHI), and agreed by Highland Council.
It would also mean the centre making efficiency savings and widening its role.
The Scottish government said it had offered £200,000 a year from 2012-13 to 2014-15 to enable WHC to link up with the centre.
Through the new funding package, the centre would open up its facilities to WHC students and launch additional courses in traditional music.
Other uses for the centre would also be considered, the Scottish government said.
'Fine history'
During a visit to the music school, Education Secretary Michael Russell said: "This new partnership between the school and West Highland College will open up the school to older music students and allow them to take advantage of the quality teaching and outstanding legacy that Plockton has provided.
"Investment from the Scottish government will make this partnership a reality and assist the bodies concerned in funding the school in these times of financial constraint over the coming years."
He added: "Scotland has a fine history of producing talented professionals across a whole range of the arts and traditional music is no exception.
"As one of our National Centres for Excellence, it is already funded by grant via the Highland Council and this will continue."
Highland Council said in February it was to stop giving annual funding of more than £300,000 as part of wider spending cuts.
The local authority has since worked closely with music centre chiefs on finding alternative sources of funding.
On the decision to cut funding, leader of the council's administration Michael Foxley told BBC Radio Scotland: "Sure some people will view it as a mistake.
"I think it has concentrated a number of minds."
'Exciting plan'
At this stage neither the Scottish government or Highland Council have confirmed what level of grant aid the local authority will give the centre.
In a statement, Mr Foxley said a report setting out the package of efficiency savings, income generation, additional funding and potential sponsorship would be presented to councillors in the near future for consideration and approval.
Norman Gillies, chairman of WHC, welcomed the college's potential involvement in the centre.
He added: "I look forward to bringing this exciting plan before the college board, and with their support and endorsement we shall then strive to make a success of this initiative such that government is convinced of the value of long-term funding."
In February, musicians campaigning against the cut in funding were among more than 100 protesters who gathered in Inverness as Highland councillors met to set the 2011/12 budget and agree to spending cuts.
The vote went 43 in favour of ending support for the school and 25 against, with three abstentions.