Feral wild boar seen in gardens near Loch Ness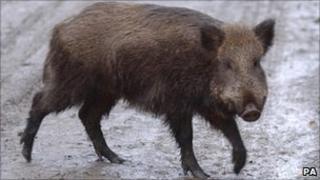 Feral wild boar have been spotted searching for food in the gardens of homes in Invermoriston, near Loch Ness.
Residents have told the Highland News of seeing the pigs on their properties and nearby roads.
Trees for Life told BBC Scotland that the animals were not linked to a group it released on its nearby Dundreggan Estate in 2009.
The Forres-based charity said it was told of feral wild boar being seen around Invermoriston last August.
In 2002, police were involved in efforts to catch a wild boar roaming between Newtonmore and Laggan. It was later shot by a local landowner.
Northern Constabulary said it had not received complaints about the Invermoriston boar.
Wild boar can be farmed under licence, but it is illegal to release them into the wild.
Groups of feral wild boar are found elsewhere in the UK, according to the Department for Environment, Food and Rural Affairs (Defra).
It said between 100 and 200 were estimated to be in Kent and East Sussex and about 20 to 30 in west Dorset.
On its website, Defra said free-living wild boar were not a protected species.
The department added that landowners could kill them if they felt this was necessary to prevent damage to land, or crops, or to prevent the spread of disease.