Brits winners Mumford & Sons caught up in bad weather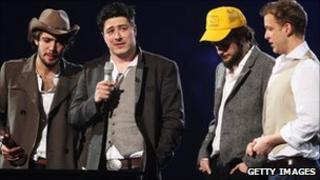 Award-winning band Mumford & Sons have been among air passengers whose flights were disrupted by heavy snow in the Highlands.
Snow closed the runway at Inverness Airport for a time, causing delays to arrivals and departures.
Mumford & Sons, who are touring the Highlands and Islands, were eventually able to fly from Inverness to Shetland.
They have also announced they will perform a gig for 250 people at a secret Highland location on Saturday.
The London-based band said the performance would be one of their "most intimate" so far.
Mumford & Sons will play a gig at the Whiteness and Weisdale Hall, near Lerwick, on Wednesday night.
The band, winners of album of the year at this year's Brit Awards, performed at the Ironworks in Inverness on Tuesday night.
Their tour has already taken them to Tobermory, Mull, Fort William, Forres, Ullapool and Stornoway.
They will play in the St Magnus Cathedral in Kirkwall, on Orkney, on Friday.
Mumford & Sons played some small shows in bars and cafes around the Highlands about two years ago.
The latest tour was organised as a "thank you" for the reception they received on that tour.