Makers of The Eagle in 'thank you' to north communities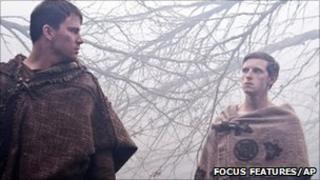 People living in the north west Highlands have been offered the chance to see a new film before its UK release as a "thank you" from its makers.
The Eagle will be shown in Achiltibuie in the Screen Machine, a mobile cinema.
Universal Pictures have paid for the screenings of the feature which is set in Roman-era Britain and directed by Scotsman Kevin Macdonald.
Scenes were shot around Achiltibuie and Old Dornie, near Ullapool. Locals also had roles as extras.
Ron Inglis, of the Screen Machine, said the cinema would be making its first visit to Achiltibuie when it sets up in the community on Thursday.
Two evening showings were fully booked and an extra screening would be available on a first come, first served basis at 1400 GMT.
On UK release from 25 March, the film follows a young Roman's attempt to honour his father's memory by finding the standard of his lost legion.
It stars Donald Sutherland, Channing Tatum, Mark Strong and Jamie Bell and is an adaption of a book by Rosemary Sutcliff.