Lovat Scout's grass weaving inspires Inverness wall art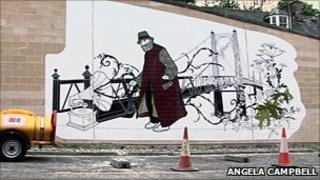 The story of a Scots soldier who chose not to talk for 50 years has helped to inspire artwork forming part of a city wall's £60,000 renovation.
Inverness's Crown Road wall has been refaced, with a large section decorated by artist Mike Inglis.
Some of the designs were influenced by items woven from grass and leaves by former Lovat Scout Angus MacPhee.
Mr MacPhee, who died in 1997, took ill while garrisoned on the Faroes in 1940 and was later a psychiatric patient.
Inglis' artwork also references the Scottish clan system in depictions of two groups of young people, with one of the groups comprising youths with deer heads.
Textures and patterns in the wall art were inspired by Mr MacPhee's weaving.
Born on South Uist, the islander served with the Lovat Scouts.
First created by Lord Lovat for service in the Second Boer War in 1900, the Scouts fought in both world wars.
During World War II they were posted to the Faroes before seeing action in Italy from 1944 until the end of 1945.
Mr MacPhee was first sent home to the Western Isles, but his family later sought medical help and he was eventually admitted as a patient at Craig Dunain hospital in Inverness.
According to an article in the British Journal of Psychiatry , the former soldier said barely a word for 50 years and made clothing and rope from grass and leaves.
The journal said that each autumn Mr MacPhee would watch as his items were swept up in the hospital's grounds and burned along with fallen leaves.
Some of his work, including a pair of boots and a jacket, survived.
Highland Council set aside £20,000 of arts funding for the wall's new artwork. The money was on top of £60,000 for the engineering work.
Mr Inglis said he had been struck by the willingness of Inverness people to share stories about the city.
He said: "From their faith and belief systems, to the relationship between the city and the rural landscape surrounding it, the architecture, homelessness and tales of some of the quirky inhabitants from the past and how the city cared for them.
"The work can be studied on a number of levels and, while I am happy to leave hints and clues to some of the stories, I would rather leave it to the imagination of the viewer to create their own interpretation."