Car with woman and girl inside goes into Loch Ness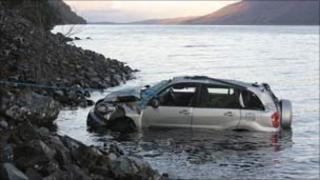 A woman and a young girl have been hurt after the car they were travelling in came off a road and slid down an embankment into Loch Ness.
Police said the pair had a lucky escape and were taken to Raigmore hospital in Inverness for treatment to minor injuries.
The accident happened at about 1000 GMT on the A82 near Drumnadrochit.
Their car, thought to be a Toyota Rav 4, slid about 80ft (24m) and ended up in the loch in shallow water.
Steep slope
Northern Constabulary said: "They are very lucky.
"The car left the road and went down the embankment. It came to rest on its wheels in about eight inches of water.
"They could have ended up on their roof in deeper water, so the outcome is very fortunate."
An eyewitness at the scene said: "How they survived this crash I don't know.
"The car went through bushes and trees and then ended up in the water.
"It was a bad place to come off the road.
"She went right down a steep slope and could have overturned several times."