Parents take children from schools in council protest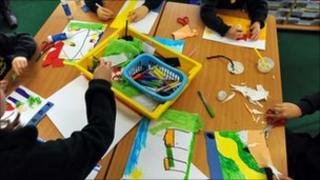 Parents in the north of Skye have taken their children out of school early in protest over proposed cuts in education.
They are unhappy at Highland Council's proposals to get rid of classroom assistants to help cut costs.
The plan would see 156 full-time equivalent jobs cut, which are filled by about 342 people.
Parents also intend to remove pupils in Inverness on Thursday, when the council meet to discuss budget cuts.
Budget leader David Alston has said the council was making tough decisions.
'Protect services'
In place of classroom assistants, 60 full-time equivalent jobs as learning support auxiliaries would be created and filled by 150 people on a part-time basis.
Mr Alston said the proposals would protect winter maintenance, swimming pools, museums and libraries from closure.
Classroom assistants are allocated to schools, while the new auxiliaries would be assigned to children with specific needs.
Ann Martin, who has a child in Kilmuir Primary on Skye, said cuts in PE, art and music specialists already put pressure on staff.
She told BBC Scotland: "The onus on the teachers is becoming more and more, particularly when we're talking about Gaelic-medium education.
"The classroom assistants are crucial in the education of the children in being able to help where specialist needs are being met.
"If they're cut we really are letting our children down so badly."