RSPB investigates decline of common scoter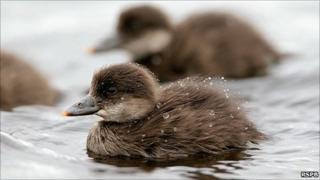 Climate change and mink could be among factors behind a decline in a species of duck, according to RSPB Scotland.
Dr Mark Hancock, an ecologist with RSPB Scotland, is at the end of the second year of a three-year study of common scoter in Caithness.
His research so far suggests that warmer weather has led to insects the birds prey on hatching earlier.
Mink, a predator, are also present around the remote lochs in Forsinard where Dr Hanock has been working.
The study is part-funded by Scottish Natural Heritage and has been carried out with the co-operation of local estates.
Dr Hancock said there were three possible factors affecting scoter numbers.
He said: "These are climate change, the availability of insects, molluscs and other invertebrates to feed the chicks, and predation.
"It could easily be a combination of all three but it is really too early to say at the moment."
The ecologist added: "We believe climate change may be a factor because warmer winters and springs could lead to aquatic insects such as mayflies and caddis flies hatching earlier in the season and not being available to the scoter ducklings when they hatch out themselves.
"And warmer winters may, over time, lead to more predators surviving and that could make an impact.
"Mink are definitely present in some scoter areas and part of the research is about finding out how many are about and what they are up to."