Huge waves recorded off Shetland and Western Isles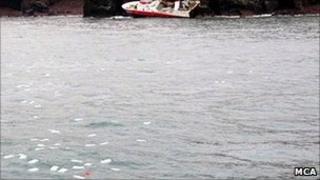 Waves towering to 15.9m (52ft) have been recorded by the Met Office in the sea off Shetland during stormy weather.
Equipment on a buoy called K7 recorded the huge waves at 0300 GMT.
The National Oceanography Centre in Southampton said waves that height were recorded once in 20 years. Waves of 18m (59ft) have been recorded previously.
Bad weather has hampered efforts to assess damage on the French trawler Jack Abry II, which has been grounded on rocks on Rum since Monday night.
Gale force winds battered the Northern and Western isles during Thursday and into the early hours of the morning.
Another buoy monitored by the Met Office - K5 off the Western Isles - recorded waves of 11.5m (37.8ft) in height at 2100 GMT on Thursday and 11.3m (37ft) at midnight.
The engine room and two fish holds of the Jack Abry II have been flooded with sea water, according to salvage crews.
Its 14 crew were rescued by Stornoway Coastguard after the trawler grounded just before midnight on Monday.
A salvage team were able to board the boat briefly on Thursday to assess the damage.
The Maritime and Coastguard Agency (MCA) said salvage equipment was being mobilised from Holland.
The Jack Abry II has been listing and is surrounded by rocks and a cliff face.
MCA tug Anglian Earl has been on standby in case the vessel becomes a pollution risk, however, the danger is thought to be minimal.
The trawler's crew said there were 64 tonnes of marine gas oil and 7,000 litres of lubricating oil on board.
According to the salvage team, the flooded fish holds contained oil indicating the fuel tanks below had been breached.
Salvors hoped to return to the vessel once there was an improvement in the weather.
They said they would then be able to investigate the potential for repairs, pump out the flooded compartments and remove fuel.