Alastair Campbell backs traditional music school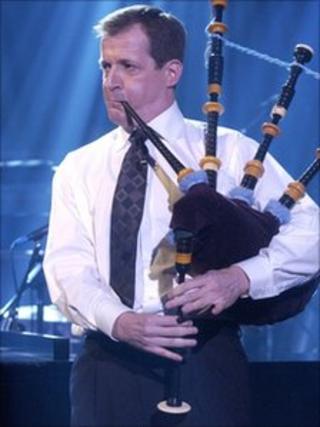 Alastair Campbell, former Labour spin doctor, has backed a campaign to save a Scottish music school from public spending cuts.
Highland Council has proposed withdrawing £300,000 annual funding it gives to Plockton's National Centre of Excellence in Traditional Music.
Mr Campbell said he was asked by a friend who shared his interest in traditional music to back the school.
Councillors will discuss the proposed cut at a meeting on 10 February.
Mr Campbell, who plays the bagpipes, told BBC Radio Scotland he had been using Twitter and Facebook to spread word of the campaign.
He said people should not be put off by the school's grand title.
In his BBC interview, he said: "When talking about traditional music and the desire to maintain excellence in it, I don't think that is elitist at all.
"I think it benefits everybody and the culture of the entire country."
He added: "I wanted to support this because I think it is important. It looks to me like an easy target in a way."
An online petition opposing the withdrawal of funds has gathered more than 3,000 names, including musician Phil Cunningham.
He said: "Any institution that teaches traditional music at a grass roots level to young people has to be important.
"When I was in my teens I hadn't any peers at all that I could play music with - I was a kind of isolated folky in an otherwise barren world.
"To see young people embracing traditional music nowadays is a wonderful thing. It is instilled at an early age as something to enjoy and not be embarrassed about."
Former pupil Suzanne Houston, of Golspie, in Sutherland, has been involved in organising an event to highlight the plight of the Plockton school.
Musicians have been invited to gather and play in Glasgow's George Square from 1300 GMT on Saturday.
The student at the Royal Scottish Academy of Music and Dance said: "This is a chance for musicians and music lovers to get together and showcase the buzz and the confidence that is surrounding traditional music just now.
"This buzz is down to government investment."
Swimming pools
Centre director Dougie Pincock said on BBC Radio's Good Morning Scotland earlier this week that, like any arts organisation, he expected budget cuts.
He said the notion of closing the whole centre had taken him, and the traditional music community, by surprise.
Highland Council's budget leader David Alston has said the authority was having to make tough financial decisions.
Other cuts proposed include the removal of 156 full-time equivalent classroom assistants' jobs in primary schools, which are filled by about 342 people.
In their place, 60 full-time equivalent jobs as learning support auxiliaries would be created and filled by 150 people on a part-time basis.
Mr Alston said the proposals would protect winter maintenance, swimming pools, museums and libraries from closure.