Warning over winds of 90mph for parts of Scotland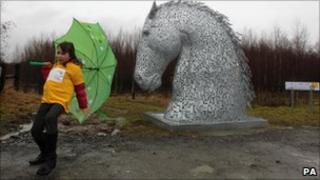 Weather forecasters have warned of winds reaching speeds of up to 90mph over parts of Scotland during Thursday.
The Met Office has issued a severe weather warning for the Western Isles, where the worst of the conditions are expected from 1400 to midnight.
The shipping forecast has predicted Hurricane Force 12 for the Hebrides.
The Scottish Environment Protection Agency (Sepa) has issued eight flood watches for rivers in Argyll, Highland, Tayside, Shetland and around Stirling.
Wind and heavy rain has already affected large parts of Scotland.
Northern Constabulary have warned of surface water affecting driving conditions on roads across the Highlands and Islands.
Bad weather in Lochaber has prevented fresh searches on Ben Nevis for Haider Ali Manir, 20, from Worcester, who was last seen on the mountain on Sunday.
The Met Office said the Western Isles should be prepared for high winds during Thursday.
In a warning, the forecaster said: "The southerly wind will strengthen as we go through this afternoon with gusts 70 to 80mph expected along the coast and across the isles and also over the high ground.
"During this evening the wind will veer westerly but will maintain the same speed before easing as we go into the night."
BBC Scotland weather forecaster Gail McGrane said high level routes and the hills in western parts of Scotland could see significant snow overnight and in the early hours of Thursday morning.
She said there could be snow to depths of 5-10cm on the hills, with a risk of drifting, in Argyll and the Highlands, and 2-5cm at lower levels with 1cm possible in populated areas.
Heavy showers, some wintry, could also affect other parts.
Flood watches
Ms McGrane said: "These showers will die down and then for a lot of the day it will not be too bad and there will even be some bright spells.
"It will be later on Thursday, in the afternoon and the first part of the night, when winds will strengthen quite considerably across Scotland.
"There will be a risk of gales for the western coast, the Western Isles and Northern Isles."
Western Isles Council - Comhairle nan Eilean Siar - said it would be monitoring the weather during Thursday and issue any advice if it was necessary.
Sepa flood watches have been issued for Argyll rivers and Loch Lomond, also the Earn, Ness and for Loch Ness and its tributaries.
There were also flood warnings for the Shetland coast, Skye and Lochaber, the Upper Tay and rivers around Stirling, Strathglass, Beauly, Conon and Easter Ross.