All classroom assistants in Highland primaries could go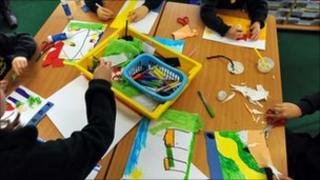 Highland Council has proposed ending the classroom assistant post in all of its primary schools in an effort to help it balance its budget.
The move would see the removal of 156 full-time equivalent jobs which are filled by about 342 people.
In their place, 60 full-time equivalent jobs as learning support auxiliaries would be created and filled by 150 people on a part-time basis.
Budget leader David Alston said the council was making tough decisions.
He said budget plans for the next two years would be presented to the full council on 10 February.
Mr Alston said the proposals would protect winter maintenance, swimming pools, museums and libraries from closure.
Classroom assistants are allocated to schools, while the new auxiliaries would be assigned to children with specific needs.
Mr Alston said a balanced budget for the next two years would be on the table at the meeting later this month.
He said: "We have saved services from some of the really difficult cuts.
"There will be no cuts to winter maintenance, no closures of swimming pools, museums or libraries and no reduction in the number of youth workers.
"We have made some tough decisions."
Computer cuts
News of the planned end of classroom assistants comes as it emerged that Highland schools could lose up to a quarter of their computers following the signing of a £70m IT contract between Highland Council and contractor Fujitsu.
The full scale of the cuts, revealed by the EIS teachers union, also show that more than 2,000 printers will be removed from classrooms.
Highland's EIS secretary Andrew Stewart said: "It is a corporate deal that the council have done.
"Maybe financially it is a good deal, it may well be adequate for offices but in schools education is bound to suffer.
"Head teachers are very, very angry."
Invergordon parent Cath Crawford said she and others were prepared to take extreme measures to protect the local academy's equipment.
She said: "We will even go to chaining ourselves to computers and printers to stop them going out of Invergordon Academy."
Fujitsu said the needs of each school had been evaluated by the local authority and the programme would cut costs.
Ongoing modernisation
Highland Council said thousands of machines would be replaced in a £4m investment programme and said that further consultation with head teachers was still to take place.
A spokesman said: "This IT contract covers education and corporate requirements and educational needs and development in the curriculum and use of IT in schools were very definitely at the heart of the discussions with all of the bidders."
He said the contract allowed for ongoing modernisation and replacement of equipment and addressed marked differences in provision from school to school.
The spokesman added: "An experienced depute head teacher was part of the procurement process and head teachers have participated in reference groups which agreed the principles of the allocation model."
"We will be looking very carefully at the circumstances of all schools."